AIRJET fresh air SHEV system
Another very important element of smoke and heat extraction is to make sure that enough fresh air is supplied. Where local conditions or working situations do not allow for it AIRJET, which is mountable on all standard wall constructions, fulfils this function naturally. AIRJET may only be installed in vertical walls, whereas the louvres are arranged horizontally.
Sizes:
The AIRJET can be manufactured in all widths from 500 to 2,000 mm. The unit length results from the number of individual louvre blades with a length of 133 mm. It is limited to 20 louvre blades = 2,732 mm roof opening.
Construction-Details:
Louvres are 1.8 mm thick and made of aluminium alloy AlMgSi05F22 extruded profile sections. The frame construction is produced from 3mm aluminium alloy AlMg3. AIRJET can be mounted in front or between the brickwork. The following diagram shows the mounting in-between the brickworks.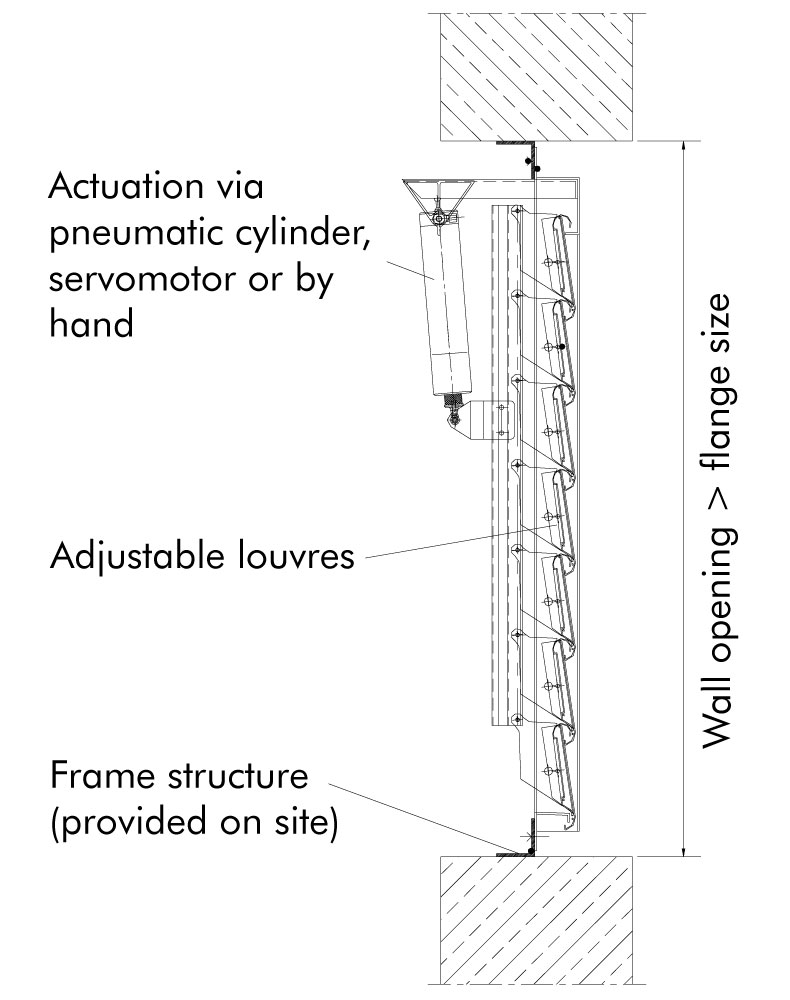 Individual customisation to any building with wall openings up to 5,46 m2

ruggedized pivot points (tested for 30,000 load changes)

fire protection classification A1 (subject to layout)

good aerodynamical efficiency (Aa-value)

suitable for day-to-day ventilation as well as for supply air in case of SHE operation. (full ventilation at a louvre position of 85°)

can be fitted with splitter attenuators

individual colouring by powder coating

low maintenance due to simple and robust construction

use of dimensionally accurate cast parts for all brackets

the product is recyclable without detrimental materials
Drive technology & control systems :
Opening of the devices can be effected by pneumatic, electric or manual control. The pneumatic control opens the louvres by means of compressed air supplied by a pressure cylinder  (working pressure: min 6 bar). When the pressure is released, two tension spring automatically close the device. The electric drive works in both directions for opening and closing of the louvres. When manual control is fitted, the louvres can be adjusted to any position.