AIRSTAR labyrinth venting system
Being a high-performance ventilator, the labyrinth venting system AIRSTAR is used in hot and noisy heavy industry, where a powerful, rainproof and energy-free venting is required and which is able to additionally fulfil noise protection regulations, if necessary. AIRSTAR uses the thermal load within a building which arises due to differences in pressure and temperature for natural venting. Standard production is made of aluminium (AlMg3).
An additional locking facility (optional with sealing brushes) avoids unnecessary energy losses during shutdown times. By means of a castors moving in guiding rails the locking facility can be electrically or pneumatically controlled. Additional splitter attenuators can be fitted in an elevated unit base if production processes reach high noise levels.
The AIRSTAR is equipped with an elevated base where sound dampers in the form of splitter attenuators are housed. Splitters are arranged underneath the labyrinth construction. Splitter frames are made of galvanized steel sheets, absorption material is humidity-resistant and abrasion-proof. The ventilator can be delivered with an empty base and refitted with splitters at a later time.
Sizes:
The maximum width of the AIRSTAR is restricted to 3.8 m. However, the construction lengthwise is unlimited. When a locking device is fitted, drives have to be installed at predetermined intervals.
A part from the two versions A1 and A2 with the optional locking facility, there are sound dampers with four different heights. (Please click for magnification):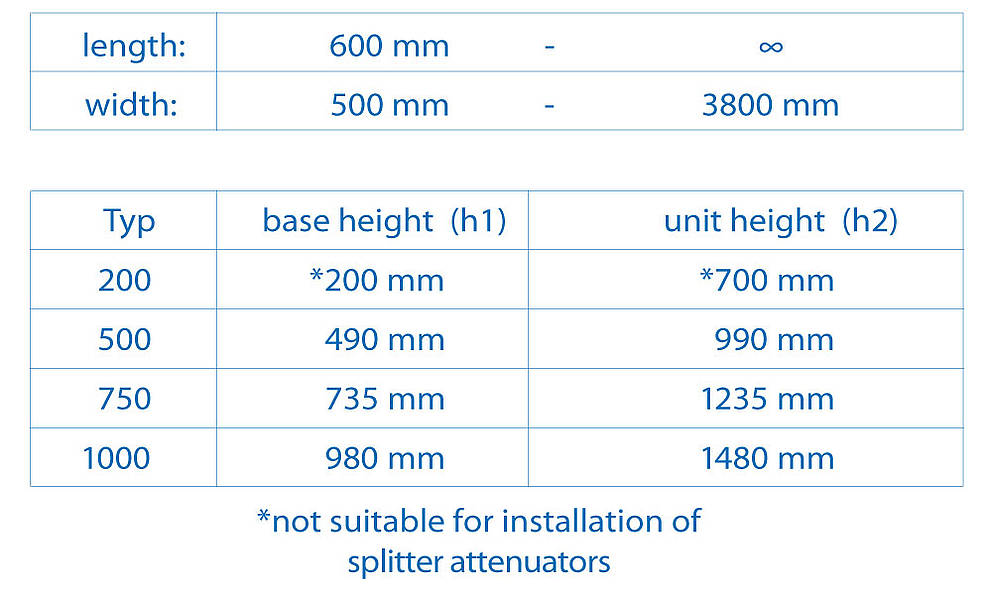 Individual customisation to any building project

Mounting possible on any standard roof construction 

Aerodynamically formed louvres with upturns in the middle and on the inflow side permit a continuous weather-proof ventilation. The accumulated water in the louvres is lead to two collecting gutters alongside the unit and channelled off to the roof.

Rain collecting gutters are formed as wind deflector plates, which enhances ventilation during windy conditions considerably.

To safe energy during shutdown times louvres can be closed by means of a locking facility. Additional nylon brushes at the locking facility intensify the sealing effect. By removing the wind deflector plates the louvres can be easily accessed for effortless cleaning.

Due to the flat design minor area are exposed to wind. As a consequence thereof supporting structures by customers remain restricted to a minimum.

Can be fitted with splitter attenuators either on or under the roof.

Good aerodynamical efficiency (Aa-value)

Individually colourable by powder coating

Plinth connection without any drilling holes by fasteners

Low maintenance due to simple and robust construction

Use of dimensionally accurate cast parts for all brackets.
Versions


Locking facility:
In order to prevent heat losses during shutdown times an additional locking facility is needed, which can be ordered optionally. The latter allows the ventilator to be closed or to regulate the amount of air.
The sliding louvres are pooled in groups running alongside the unit in polyamide castors. Version A1 works with one locking facility. In order to make use of the maximum opening area version A2 is fitted with two locking facilities lying on top of each other. AIRSTAR A2 with opened double sliders – making it possible to utilize the maximum of the unit's opening area.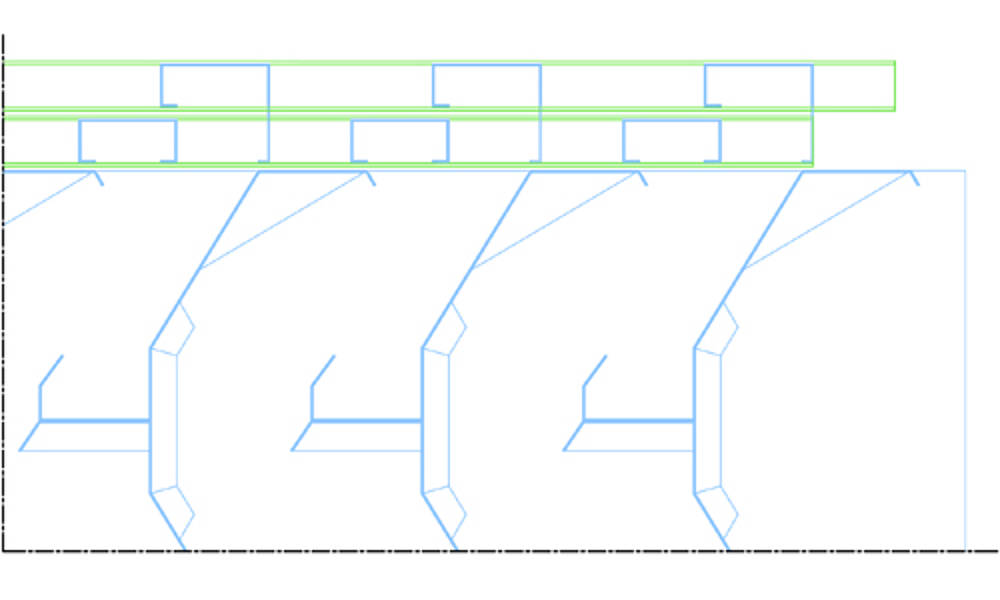 AIRSTAR A2 with closed sliders, reducing heat losses during shutdown times. For additional sealing the locking louvres can be fitted with nylon brushes.
The actuator for the locking facility is either fitted with
a double-acting, damped and maintenance-free pneumatic cylinder with bellow or
a low-maintenance electric drive.
Insertion attenuation of devices:
Mounting:
Due to its low weight as well as the customised dimensions and flange versions an easy mounting is given. The system can be installed on top of all standard roof constructions.