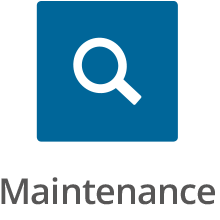 Maintenance
In order to be able to ensure that the equipment works perfectly in the event of a fire, it should be serviced as specified by the manufacturer (generally once a year). Where operating sites are especially dirty or laden with particulate matter, the servicing intervals should be reduced accordingly. On each occasion the natural smoke and heat extractors, complete with their controls, opening motors, power lines and accessories, get checked to ensure that they are working properly, serviced and, if necessary, repaired. Such servicing and maintenance work may also only be done by qualified specialist firms.
Regular servicing ensures not only that the systems will work in an emergency, but also makes sense financially. For by doing such servicing any necessary repairs can be spotted early and performed without great expense.
Have our partners provide you with information on an appropriate service contract for your equipment.