Multi-wall panels

Various polycarbonate multi-wall panels are available for the infill of the EUROLIGHT and DELTALIGHT skylight systems, as well as for the use in shed glazing. Additionally, the systems can be designed as hard roofing elements.
Polycarbonate is a building material, perfectly suited as a lighting element. It features high stability, impact resistance and rigidity. Furthermore, it is resistant to many mineral acids, salts, oxidants and carbon hydride. Polycarbonate panels come with a coating for UV stability, thus their translucency changes but marginally to the indicated value over time. Its particular benefits, however, will start to reveal, when used as a multi-wall panel. Due to their low weight of 2.6 – 3.2 kg/m² (16 mm thick panel without filling), multi-wall panels offer a significantly lighter alternative to glazing infills. They provide brilliant U-values and the HR5 version is even hailstorm resistant up to a hail stone size of 55 mm according to SIA standard 280.
Hard roofing
When designed as a hard roofing element, the 16 mm polycarbonate multi-wall panel (marked in the table in orange) is combined with a 1.1 mm thick GRP panel, which is installed underneath.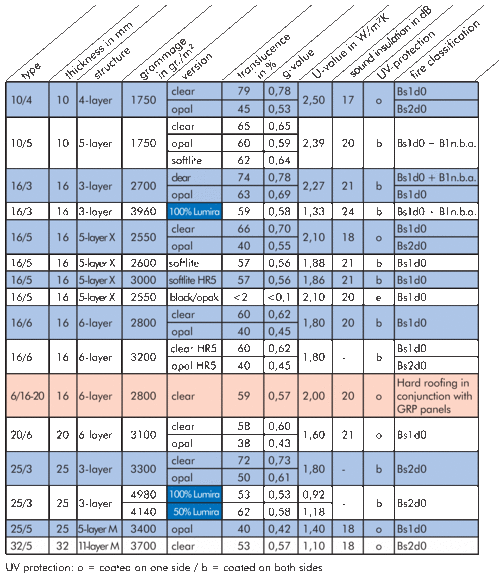 polycarbonate click-panels for shed-roofs and facades
In addition to the polycarbonate multi-wall panels listed in the upper table, for shed-roofs and facades we offer the following click panels, which allow a glazing-bar-free glazing.