PHOENIX
In addition to its function as a natural heat and smoke extractor (SHE-system), the PHOENIX can be used for everyday ventilation; even coping with extreme weather conditions. On customers request the PHÖNIX is available in insulated or non-insulated versions, or in the K33 version as a thermally separated System, that lowers the condensation point, resulting in less production-related condensation in certain types of factory. The top flaps can be fitted with a choice of either 16 mm multiwall polycarbonate panels or an aluminium sandwich structure. Depending on the top flap infill, sound absorption levels of up to 33 dB are possible.
Depending on the design, the top flaps open via compressed air cylinders with end-position locking at both ends or via electric servomotors. Weathertightness is achieved by means of EPDM profile seals. Additionally, the PHOENIX can be fitted with insect screens. In order to avoid glare, lighting grids can be additionally installed in the system. On request, the PHOENIX can be supplied with fall-through-safety grids, thus helping to guarantee the required fall-through protection. The system modules are pre-assembled and tested ready for operation.
The systems are made to order and can be produced in all lengths and widths up to 2,500 x 3,000 mm.

Field of application:
Flat roofs
Northlight roofs
Skylight systems
Gable roof skylight systems
The systems conform to DIN EN 12101-2 and VdS 2159 (depending on the specification). The EC declaration of conformity is delivered with the product.

In addition, the pneumatically controlled PX1 and PX2 units have been tested for explosion protection (ATEX) according to the EU Directive 94/9/EC with reference to EN 1127-1, EN13463-1 and EN 13463-5
(depending on system size and model)
. The EC declaration of conformity for the product and the explosion proofing are delivered with the product.
Further tests and certification are found here.
Versions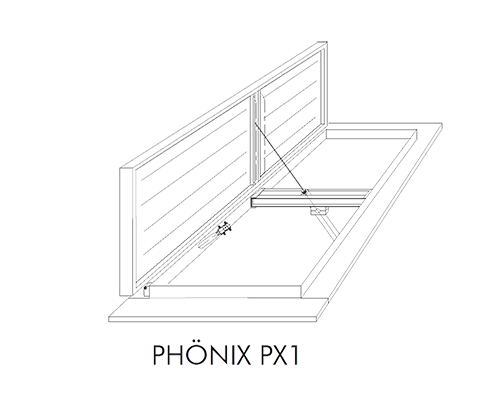 Single-flap in an opening or a non-opening version (only for
skylights/Northlight roofs)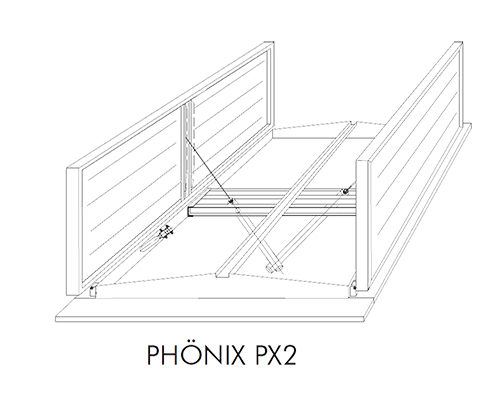 Double flap in opening or non-opening versions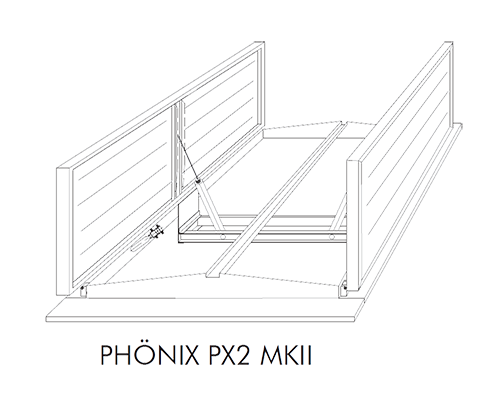 Double-flap version with short cylinders
Design characteristics:
The unit is made of AlMg3 aluminium alloy with single- or double-skin insulation. In the K33 version the thermal separation is achieved by using rolled-in polyamide bars for both the top flaps and the base. The heat loss is reduced to a minimum by EPDM seals. The pivot points on the cylinders or servomotors consist of aluminium-profiles with Teflon-coated bronze bushes and therefore require no maintenance. Mounting on the plinth is by means of tension locks or screw connections with sealing washers.
Top flap versions:
Adjustable pneumatic cylinders with locking in opened and closed position or 24V actuator opens the panels up to a 90° position.
Top flap versions:
PC – Clear, opal or softlite 16 mm polycarbonate panels (on request with Lumira® insulation) up to hailstorm protection classification V.
A selection of usable PC multi-wall sheets can be found here.
PC 25 mm polycarbonate clear / opal (only with version 33 – thermally separated)
A1 – Single-skin aluminium version
A2 – Double-skin aluminium version (insulated)
The top-flap frames are made of aluminium alloy (AlMgSi05). They are inclined at 6° to the horizontal. The top flaps are attached using three hinges with carriage bolts. All versions are available up to the maximum frame size.
A selection of usable PC multi-wall sheets can be found here.
Subject to locality and requirements the most suitable version can be chosen with regard to different:
Details to drive technology and control systems are found here.