VenturiSmoke VS2 double flap NSHE system
The VenturiSmoke VS2 is a double flap that can be produced up to a size of 2.5 x 3.5 meters. The VS2 opens both in case of fire as well as for daily ventilation purposes with an opening angle of 90 degrees. Depending on the model, opening panels open and close via compressed air cylinders with end position locking in both positions or via electrically operated actuators. Tightness is provided by EPDM profile gaskets. On request the VS2 comes with fall-through safety grids that meets the required fall-through safety regulations. Insects and bird screens are also available on request.
Field of application:
• Flat roof (up to roof areas with a maximum slope of 15°)
The VenturiSmoke VS2 comply with DIN EN 12101-2 (depending on the specification).

Unit base:
The plinth is part of the VS2 system and is tested as such. The traverse with the drives is screwed directly onto the base. The single-shell base made of AlMg Si05 alloy aluminium consists of a narrow frame with a rain gutter. EPDM seals reduce the leakage of hot air to a minimum. The drives' bearing points are made of Teflon-coated bronze bushings with stainless steel bolts and are maintenance-free.
Ideal for flat roofs with flexible construction sizes.

Suitable for day-to-day ventilation (full ventilation at a 90° ventilation position)

Endurance test with 10,000 opening cycles confirm the stability and functionality as well as the high quality of the materials used.

A geometric opening area of 10 m² is feasible, when installed on a conical plinth.

Aerodynamically effective opening area of up to 6.7 m².

U-values of under 1 W/m²K are achievable with infills of up to 56mm of thickness.

Also available with dark flaps

Efficient drainage of rain water via a central gutter

All hinges are made of extruded profiles with stainless steel bolts and are therefore maintenance-free.

Connection of drives is effected via Teflon-coated bronze bushings and is therefore maintenance-free.

Can be delivered completely pre-mounted or in modules.

Device with EPDM seals is completely free of silicon.

The VenturiSmoke VS2 complies to the requirements of DIN EN 12101-2 (subject to model)
Versions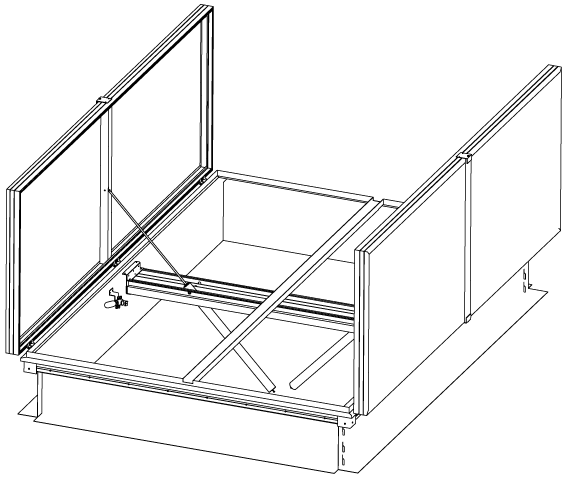 Opening panel versions:
• K2 – 16 mm clear, opal, opaque or softlite polycarbonate (available with Lumira™- Insulation on request)
• K3 – 16 or 25 mm clear / opal polycarbonate
• K3 – 16 + 40 mm clear / opal polycarbonate (U-value for the entire system under 1 W/m²K)
• A1 – single-shelled aluminium
• A2 – double-shelled insulated aluminium
• A3 – thermally insulated aluminium with 20- or 30-mm insulation.
The opening panel frames are made from AlMg Si05 alloy aluminium. They are fixed at three hinges by means of locking screws. The frames of opening panel version 33 are thermally separated via rolled in polyamide bars. All opening panel variants are approved up to the maximum construction size.
Drives:
Opening panels are driven by choice either electrically via linear actuators or pneumatically via cylinders with end position locking in both positions.
Plinths:
The system is tested and approved with straight and conical plinth with a height of 350- and 450-mm. Plinths of other makes are permitted, as far as they correspond to the aerodynamic requirements with respect to:
• Design (in compliance with the geometric specifications)
• Size
Sizes:
The systems can be produced in all conceivable length and width up to a size of 2,500 x 3,500 mm, as these are manufactured on customer's order.